PLC @ College of FET Ennis Campus
*** APPLY OR Register Your Interest in PLC programmes for 2020-2021 HERE ***
If you apply before Friday, May 28th 2021, your application will be processed in early June, when the first round offers will be made.  We will continue to take applications during the summer and the second round offers will be made in late August and into September 2021.  Please include an email address for communication.
Our programmes will be delivered at the new College of FET Ennis Campus, Clonroad Business Park.
Click the watch a video of the facilities: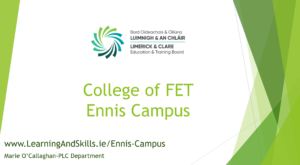 This website introduces you to our Further Education and Post-Leaving Certificate Courses. We hope that it will be of use in helping to decide between the many educational options that are available to you.
Click here to view course details.
Details of all full-time and part-time programmes at the the College of FET Ennis campus are available on www.learningandskills.ie/ennis-campus
If you decide to enrol in a course in our College, you will be taking the first steps on the road to a number of challenging and interesting careers. All of our Post-Leaving Certificate and Further Education Courses are very much related to the opportunities available today in the work place and all of these courses also serve as a basis for further study at third level.
All programmes qualify for national accreditation and a progression pathway to third level courses is provided through the Higher Education Links Scheme. Visit www.cao.ie to see the range of progression opportunities that exist.   Through the further education route it is possible to get onto courses that require high CAO points without having those points in your Leaving Certificate. Indeed, information from the CAO indicated that the number of applicants that are offered and accept a place on presenting a QQI qualification has increased significantly from 599 in 2001 to 3,065 in 2012 (INOU website).
Our courses are delivered by skilled teachers dedicated to helping you achieve your goals. The College environment encourages students to maximise potential. Students are facilitated to achieve the best possible results in a caring environment, which aims to develop the academic, vocational and personal skills needed in the work place and in life generally.
Should you require any information beyond that obtainable on this website, please do not hesitate to contact the college.